In some of the latest news on the student loan debt crisis, the pause in federal student loan payments that has been in effect since March 2020 may soon come to an end, and Senator Elizabeth Warren is out with another one of her famous plans that would attempt to make the peonage a bit more tolerable. Meanwhile, US student loan debt totals roughly $1.76 trillion.
The numbers and half-measures are familiar enough by now, but today I wanted to look at the circular role that nonprofits play in pushing high school students towards loans.
The gist is that lenders and loan guarantors made massive profits. Some lenders and guarantors actually became nonprofits themselves due to new federal rules under the Obama administration. Either way, the money made off the backs of students, goes to a wide variety of nonprofits focused on "college access," usually with an emphasis on racial justice and equity. The national non-profit rains money down onto a web of smaller, local non-profits all pushing higher education and making sure potential students know about their financial options.
Many of these organizations offer scholarships, but they are often nowhere close to enough to cover the annual cost, leaving students reliant on lenders. Not to mention, universities are increasingly shifting costs that used to be covered by tuition to the "fees" category, where they can no longer be covered by scholarship money. There's also the scholarship reduction trick.
To be clear, I'm not arguing that anyone should not have "access" to higher education (everyone would have access if it was free), but the likes of Navient using it to launder its reputation with stuff like this?
With Navient's support, Boys & Girls Clubs of America launched a new digital program to help young people and their families learn about financial aid and how to pay for college. The data-driven curriculum includes activities for teens to learn about college costs, understand financial aid, complete the FAFSA, learn how to find scholarships and understand student loans. The program also helps Club members identify trusted adults who can guide them through their journey, including discussion guides and parent handouts. The digital curriculum, Diplomas to Degrees, can be accessed through Boys & Girls Clubs of America's online platform, MyFuture.
One of many major hurdles to doing anything about a nation of student debtors is the entrenched PMC at the nonprofits. According to the Urban Institute, there were 2,161 higher education public charities as of 2016, the most recent year it had data available.
Let's take the National College Attainment Network (NCAN) as a starting point.
What is it?
From its about page:
[NCAN] is a nonprofit, nonpartisan professional association with nearly 600 member organizations across the U.S. that help students prepare for, apply to, and succeed in college. NCAN member organizations touch the lives of more than 2 million students and families each year. They span the education, nonprofit, government, and civic sectors.

NCAN believes everyone – regardless of race, ethnicity, or socioeconomic status – should have the opportunity to complete affordable, high-quality education after high school.
Where does it get its money?
On its "supporters" page NCAN says the foundations and companies have provided significant assistance to NCAN since its founding in 1995 include:
ALL Student Loan, "a nonprofit student lender dedicated to increasing access to education by offering innovative, affordable and seamless student loan products to students and their parents." [1]
American Student Assistance, which is the business name for the Massachusetts Higher Education Assistance Corporation, a nonprofit student loan collection agency.
Ascendium Education Group, one of the nation's largest student loan servicers, as well as the designated student loan guarantor for Minnesota, Ohio, Wisconsin, South Dakota, Iowa, Puerto Rico, and the US Virgin Islands.
Consumer Bankers Association. ​​Nearly 70% of private student loans are made by six lenders, five of which are CBA Members
ECMC Foundation, which is part of the ECMC Group that also performs loan collection for federal student loans that are in default or bankruptcy.
Helios Education Foundation. The corporate conversion of Southwest Student Services Corporation created Helios in 2004 with an endowment in excess of $500 million dollars.
Nelnet, the conglomerate that deals in the administration and repayment of student loans and education financial services.
Strada Education Network, formerly USA Funds, which was at one point the largest guarantor of federal student loans.
XAP Corp., which "provides state-level sponsors, school districts and individual schools with online solutions for students and adults to explore careers and discover, plan for, and apply to colleges and universities."
This brief list is just a fraction of NCAN's partners. If their mission was truly "access" and "innovation," you'd think with so many well-heeled friends they might consider opening a few free universities.
But instead all that money and influence goes to coming up with stuff like this:
Meanwhile, over the past decade the $130 billion private student loan market has grown more than 70 percent.
According to NCAN's form 990 return of organization exempt from income tax income, most of its disbursements go to local and state non profits lower on the food chain that reflect NCAN's top priorities, which are:
Simplifying the FAFSA
Increasing the PELL Grant so it covers 50 percent of college
Making sure work study grants go to more schools with a higher proportion of low-income students
Allowing DACA recipients to be eligible for federal financial aid
Ensuring that student loan counseling is consumer-tested with students and balances an informative process with one that does not create barriers to aid.
Standardizing financial aid award letters
Allowing students who would otherwise be eligible for SNAP to receive these benefits by fulfilling the 20-hour work requirement with a combination of work and credit hours.
One could argue these priorities are simply to ensure that student debt keeps piling up, which could aid NCAN's benefactors, which keeps the money flowing into the higher ed nonprofit complex.
Again private loans are on the rise since half measures like those proposed by NCAN only go so far when faced with the following:
The cost of attending college has been rising steeply, with the annual price tag of a public college, including room and board, at more than $18,000 and more than $47,000 for a private one.

There are limits to how much students can take out in federal loans — the most an undergraduate can borrow in a year is $12,500 — and so many turn to private financing to finish covering their bill.
How about the staff of the National College Attainment Network?
One of the senior managers of policy and advocacy, previously served as policy associate for AccessLex Institute. What is the AccessLex Institute? It "provides resources to law schools and scholars by recognizing student barriers and offering services that help improve legal education access." More from Insight to Diversity:
AccessLex formerly operated as a student loan lender exclusively for law students and was previously named AccessGroup. In 2013, the federal government cut out middleman loan providers and made student loans accessible directly from the U.S. Treasury. This move caused AccessGroup to be pushed out of the student lending market. The CEO and board of directors then decided to rename and refocus the organization on reforming legal education.

"Our funding comes from lawyers paying their loans back to us," says Aaron Taylor, executive director of CLEE. "We use that money to make it better for the next generation of law schools and lawyers."
Before that, AlQaisi was at the Lumina Foundation, another nonprofit created as a conversion foundation using proceeds from the sale of assets of the USA Group, a student loan administrator.
Another senior director of policy and advocacy, previously worked as senior director at the Institute for College Access & Success, which "advocate[s] for more accessible and effective Pell Grants and Cal Grants, more affordable student loans, greater and more equitable state funding, and better information to help students make good financial decisions."
Board members have missions to help the "LatinX" community, there's the chair for the California Student Aid Commission, the executive director for the Louisiana Office of Student Financial Assistance,  a former senior VP of Team Member Philanthropy at Wells Fargo, the head of UBS Community Affairs & Corporate Responsibility, Americas, etc.
You get the drift. Nearly all the staff and board hail from the chummy, buzzword world of innovation, equity, and access, which is almost always backed by big money made off the backs of the people they are supposedly trying to help.
We've long been told a college education is the path to a better life, but that message has crumbled. Among bachelor's degree holders with debt, 72 percent said the costs of their education were greater than the benefits.
And now universities are increasingly shifting institutional aid to wealthier families they know can pay at least a part of the tuition. Overall, a historic decline is taking place – one that began in the fall of 2020. Since then, more than 1 million fewer students enrolled in college than normal over such a time period.
Was it more the pandemic? Despite repeated declarations that the pandemic is "officially" over, enrollment is not rebounding. Is it the labor shortage and offer of better-paying jobs that don't require a degree?  Or is it a decline that will continue as the American elites have finally made higher education so unattractive, save for the wealthy?
NOTES
[1] Of course many of the nonprofit student loan guarantors donating to the nonprofit NCAN are just rebrands of formerly private student loan companies or guarantors of government backed private lenders. That's because when the Obama administration eliminated government-backed private lending (FFEL) the business of insuring bank loans was destined to dry up, and guarantors are required to be either nonprofits or state-run.
Although the federal government ended the FFEL program, companies still had plenty of time to make a fortune beforehand, and the well won't run dry for a while. There are still about 9.2 million borrowers with outstanding FFELP loans totaling $208 billion, as of Dec. 31, 2022, according to the Education Department. That could take another few decades for people to pay off.
Here's the system our elite great minds were able to come up with for nonprofit guarantors rather than free college: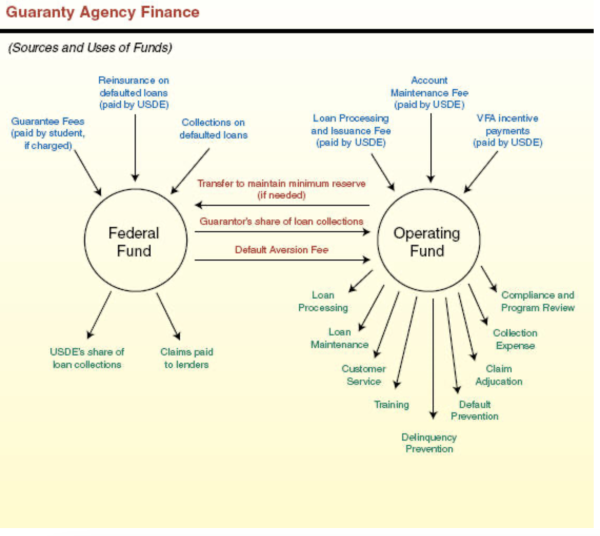 Meanwhile Education Department encouraged guarantors to propose new services that build on their experience backing loans. And so now their mission mostly reflects that of NCAN. The now-nonprofits continue to earn revenue off the FFELP loans with fees for collection and account maintenance.
After making fortunes servicing government-backed private lending, these companies suddenly began to care for students and higher education once converting to nonprofits that help students explore their financial options. Who knows, maybe they'll convert back to for-profit entities if/once there are enough private loans outstanding again.
Way back in 2014 Inside Higher Ed wrote about guarantors reinventing themselves:
…regulators should keep an eye on guarantors as they branch out, to make sure their new programs are sensible. He said it's clear many among them plan to stick around for a while, albeit in different forms.

"They've got the money to have the ambition," said [Ben Miller, a senior policy analyst at the New America Foundation].